What is Customer onboarding and why is it crucial for SaaS success?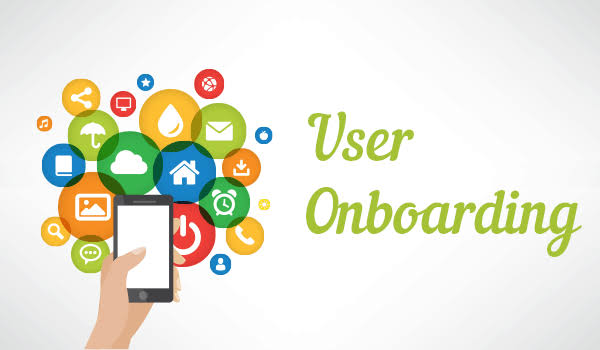 Designing a SaaS product encompasses a lot of processes. From customer research to creating a compelling copy around your product, the list becomes longer as you move forward in your SaaS journey. Even after building the best product, there are high chance that your target audience may have trouble figuring out how your product could solve their problem. That's where SaaS customer onboarding comes into play.
Your onboarding strategy is one of the best ways to create a long-lasting relationship with your customers. A lack of a seamless onboarding process can jeopardize your product status and affect your SaaS business. With the influx of several products and services rivaling one another, you do not want haphazard user onboarding to impede the success of your SaaS product.
Instead, you should aim for a customer onboarding that creates a positive impression on the minds of users. An onboarding experience that captivates them and makes them see only the goodness in your product. Despite being crucial for the success of SaaS products, carving out a great onboarding experience in SaaS has been a stumbling block for many businesses.
In this article, we'll dig into the rudiments of SaaS customer onboarding and why it is crucial for the success of your SaaS product. We'll also unearth some examples of user-friendly onboarding experience of some SaaS brands so that you could draw inspiration from them and tap from their wealth of experience.
What is Customer Onboarding?
Customer onboarding is the process of guiding the customers to the inner workings of your product. In the onboarding process, you explain every detail associated with your product and how it could be of benefit to the customer. A holistic approach to great user onboarding is not just to be satisfied when users sign up for your product. Instead, the onboarding process guides them from signing up to the time they become a regular user of your product.
A poorly planned onboarding practice leaves a hole in your marketing and sales strategies. Subsequently, it jeopardizes the ambition of getting enough customers for your product. By giving your customers all the necessary tools and instruments they need to get acquainted with your product, you are creating a synergy that would translate them from ordinary visitors to paying customers.
Why is customer onboarding a crucial part of your SaaS success?
Customer onboarding could make or mar the success of your product. When effectively done, It could provide a quick return on investment and the effect could be devastating if done poorly. Below are reasons customer onboarding is crucial to your SaaS success.
Customer onboarding instills confidence in users
Expectedly, First time users of your product are likely to be skeptical about your product and whether it could solve their problem. That's why you need to instill confidence in your customers through a seamless onboarding process. Since the onboarding process is the first point of customers' interaction with your product, they are likely to stick around if your product is valuable to them.
Once your product or service starts making sense to them, you can then build upon this by improving customer experience and satisfaction.
Customer onboarding enhances customer retention
As you educate your customers on your product, they also start to build trust in it. It may take time for them to see your product as the solution. But when they eventually see it, it becomes difficult for them not to use it. If they have been on a free trial before, they'll be more likely to pay to access your product
Customer onboarding should decrease the dependence on customer support
Your onboarding process should include all the features that would enhance the customers' experience of your product. By getting most of their questions answered in the user onboarding process, there will be less need for customer support.
The customer service team can then focus on complex issues that may not be resolved during onboarding.
How to create an effective onboarding process
Making a lasting impression on customers at their first point of interaction with your product is the hallmark of quality customer onboarding process. That's why you should design a well-thought onboarding metrics that can trigger customers' attention and transform them from mere onlookers to active subscribers. The onboarding process should set the tone for a long-lasting relationship with customers. It should explain the principle behind your product, how to use it, and how it will be of benefit to the users. Below are how you can create an effective onboarding process.
Create an intuitive signup page
If you are to gain the attention of customers for your SaaS product, then you have to get the signup process right. Only a fraction of customers will continue if they encounter any difficulty while signing up for your product. Your sign-up page should be easy to use and devoid of asking for personal details. A simple name and email should be enough to get users to sign up. A signup page asking for too much personal detail may be a turn-off for many users.
Welcome them with an appreciative email
After the successful sign-up by users, you should welcome them with an email showing how excited you are about their sign-up. Use this welcome email to explain how to get started with your product. In this email, ensure you provide enough value for them, court their attention, and clarify their doubt. You should also include a call-to-action button directing them to the login page for them to get started with your product.
Explain how your product works
You only have a small time to convince your new users. Hence, make their stay with your product memorable and value-laden. Craft a compelling narrative around your product and give them a step-by-step guide on how they should use the product. The step-by-step guide should be in the form of articles and videos to accommodate all forms of user needs.
Create a summary guide
Some customers may not have the time to read an in-depth guide to your product, but they'll most certainly be interested if there is something they can just scan through. For these types of customers, you can create blog posts explaining the core features of your products, and how they could benefit from it. A similar summary video should also be created to accommodate users who may not be able to watch long videos.
Create a resource section
Many users usually have questions after seeing your product for the first time. A resource section could be a perfect place to quench their thirst and answer their questions. Instead of referring them to customer service every time they have an issue, the resource section could be used to answer common questions and solidify the customer onboarding experiences. Chatbot is also a good alternative to a resource center. With chatbots, they could be able to get answers to their questions live.
Engage users with follow-up emails
The onboarding process does not stop when the user signs up and gets acquainted with your product. Instead, you should continue users engagement through follow-up emails. Continue showing the value they could get from using your product and use the follow-up emails to update them whenever there is any development to the product.
If they are on the free trial, you can use the emails to encourage them to sign up for paid plans. By this, you can create a long-lasting relationship with them while still demonstrating the value you can provide.
Successful SaaS onboarding experience examples
We've been discussing the SaaS onboarding process and how you can create a quality one for your product. Now is the time to get a hand-on-experience of successful SaaS companies with a quality user onboarding experience. Here are examples of great onboarding practices that you can draw inspiration from.
Trello
One of the best user onboarding processes you should try to replicate for your product is the Trello onboarding process. Trello sign-up page is intuitive enough to navigate for even a first-time user. Only an email is required to sign up and a celebratory modal immediately pops up after the successful signup.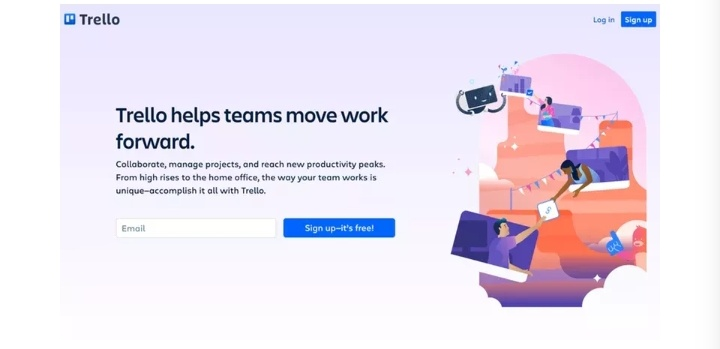 Thereafter, you have a detailed checklist of all the important values that Trello provides. The onboarding checklist is organized in a way that can be easily navigated.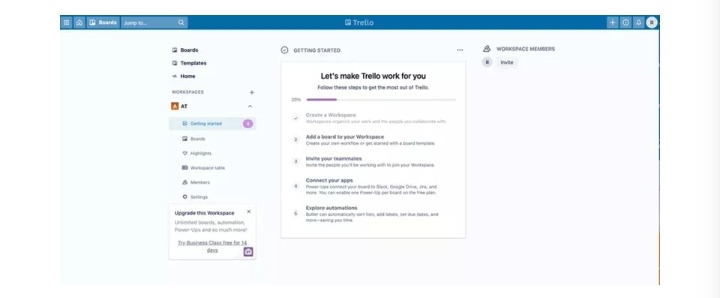 Notion
Notion streamlines users' experience based on what they choose when they are signing up. Intuitively, they ask users for their roles and how they plan to use their service (Whether as part of a team or for the user alone).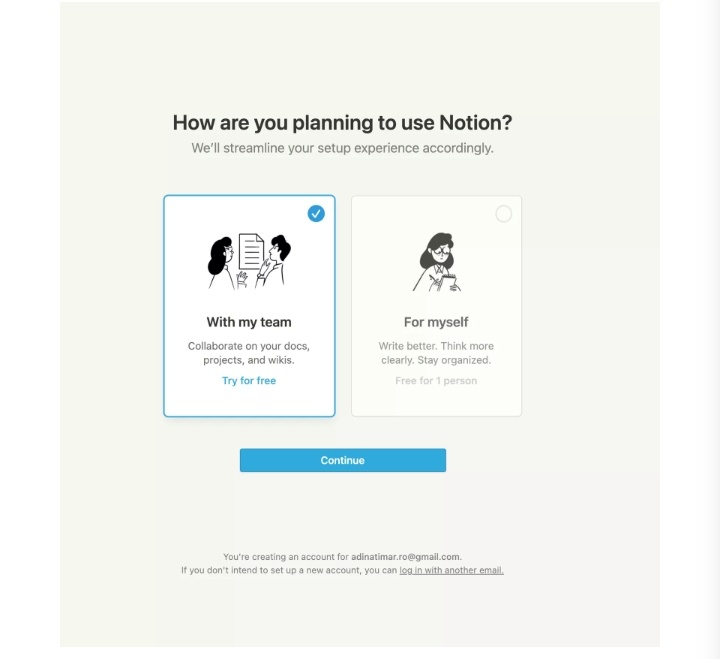 After this, a personalized experience featuring relevant templates is displayed to the users according to what they choose.
Etsy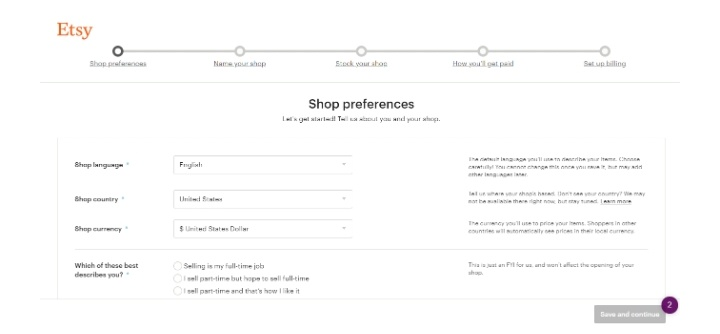 Etsy provides a progress bar showcasing where the users are on the onboarding experience. It also gives the users a snippet of the steps needed to complete their onboarding experience.
Dropbox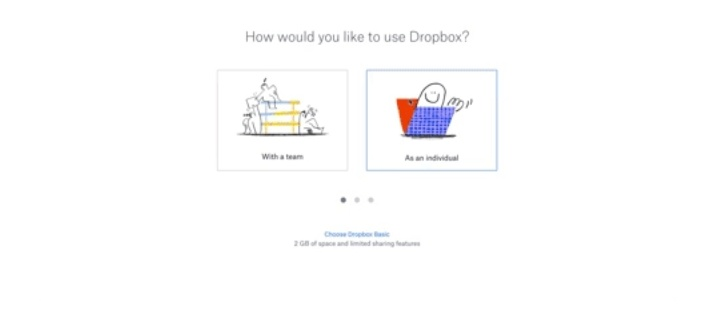 Dropbox is another SaaS service that uses question variants in its onboarding flow. They ask these questions to better understand how users plan to use their service. With this organized checklist, new customer will have little to no difficulty during the onboarding.
Conclusion
User onboarding is a core aspect of marketing that could make or mar your SaaS success. It is the first touch point for product users to get acquainted with your product. Educating the users about the value of your product could increase your chances of getting their attention and turning them into loyal customers. With a quality onboarding process, you are on your way to stimulating customers' experience, increasing your earning potential, and engendering the long-term success of your product.